There are many benefits and joys to traveling on road trips in an RV, but some of the most important aspects of the trip are what places you end up in. There are so many beautiful National Parks in the United States, and it is so difficult to hit them all, but if you're looking for one of the best, it might be Yellowstone National Park!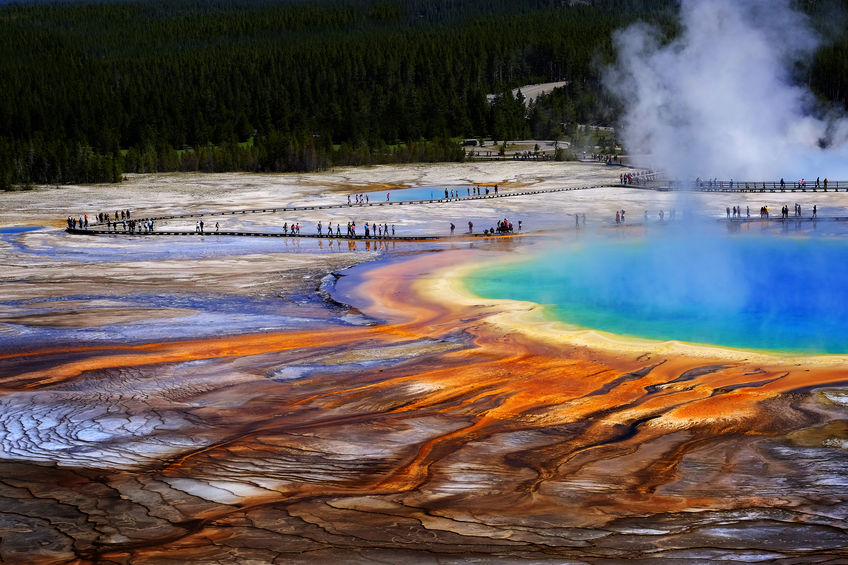 What Should I Expect at Yellowstone National Park?
Well, you should expect spectacular views and natural scenery in Yellowstone. It's well-known as being the very first National Park ever formed in the United States, and it has very distinct features to identify it with. One of the really amazing aspects of the park is that it ranges almost 3,500 miles including areas of Wyoming, Montana, and Idaho.
The Dormant Volcano
Yellowstone does in fact sit on top of a dormant volcano and has plenty of geysers and hot springs to check out. Traveling in an RV to Yellowstone can be an amazing experience for the whole family due to its rich history and magnificent scenery.
What to Do at Yellowstone National Park
There is so much to do at the park including hiking on the trails that will take you to canyons, lakes, waterfalls, and much more. You also have the opportunity to climb up to some of the mountain peaks that are available, which will give you some of the most amazing views.
Why Choose to Travel in an RV?
If you have an RV, then it's a no brainer. Go get that big recreational vehicle out of storage and bring it to Yellowstone National Park. When traveling in an RV to national parks, it's quite honestly a better way of camping. You don't have to worry about weather conditions, and you can even cook your own meals in one.
The Benefits of RV Travel to National Parks
Shelter for the Weather
Comfortable camping for the family
Ability to cook and make own meals
More Spacious for longer drives
Power hookups
If you haven't used your RV in quite some time, it may need some updates on the outside. At Hemet Valley RV, we specialize in RV siding and doors. Our job is to give the RV industry state-of-the-art RV siding and doors for people who need updates on their recreational vehicles. Over the years, you're RV siding and other parts acquire rust and other damages. Updating your siding can give you extra years for more RV travel when you want. We specialize in Filon and Fiberglass siding for recreational vehicles. We have been able to adapt over the years with new techniques to help improve the durability and design to ensure satisfaction for all of our customers.
If you're looking to travel again in your RV, we recommend looking into updating your RV siding and other parts. This can ensure many more trips in your RV, so you and your family can enjoy vacationing to national parks in the United States like Yellowstone National Park.
Contact Hemet Valley RV at 951-765-5075 today or visit us online for more information!