Guideline for measuring RV Siding
---
If metal is off coach:
measure from the top of the metal to the bottom of the S-lock (see drawing) and add 2-1/4″.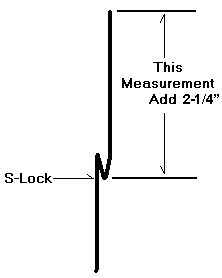 When you need to measure RV siding for Coleman, Starcraft and vintage trailers or if you have an RV or camper victim to natural weather damage or an accident, the highly experienced team at Helmet Valley RV is always ready to get the job done. From the moment you come to us, we work hard to get your RV back in shape and ready for travel. We are experts in the field of RV siding, and we offer a long list of services in order to provide assistance for a wide range of trailers.
Based out of California, we have proudly served the surrounding community since 2005. With more than three decades of experience in the industry, we prioritize customer satisfaction before all else. For more information, you can reach us by phone at 951-765-5075 or by email at hvrvmetal@verizon.net. Check out our testimonials section to see what people are saying about us.
Thank you for choosing Hemet Valley RV, and we look forward to working with you!