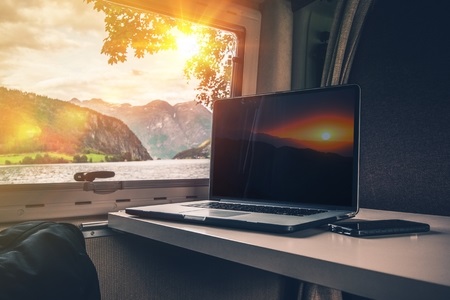 Jumping into an RV and cruising around the country to escape it all has become a dream come true for many. It is not surprise that the idea of leaving behind the daily grind and losing yourself on the open road appeals to many people.
However, even if you live in an RV full-time, it is important to have access to Wi-Fi which many people rely on for work.
Not all of the places you travel will offer Wi-Fi and internet connection is often slow when traveling. However, there are plenty of ways to increase the Wi-Fi signal in your RV.
Use a Wi-Fi Reception Booster
Consider using a Wi-Fi reception booster to improve your existing Wi-Fi signal. These boosters use antennas and an amplifier to receive and improve internet signals to provide you with better internet reception. Wi-Fi reception boosters plug into most devices through a USB and the antenna points at where the Wi-Fi signal originates.
Try a Wi-Fi Extender Antenna
A Wi-Fi extender antenna can receive transmissions from a good distance away, which is great for people who enjoy parking their RV in more rural locations. Extender antennas do not need to plug directly into your device and work well with devices like iPads or phones that typically don't have USB ports.
Change Your Location
Getting closer to a  Wi-Fi transmitter can be the difference between easily accessing the Wi-Fi or experiencing technical difficulties. If you are staying at a campground, consider parking as close to the Wi-Fi transmitter as possible; this could likely be near the campground. If your Wi-Fi source is outside of the RV, try going outside of your vehicle to improve your connection. Sometimes the body of an RV can block outside signals from coming inside.
Create a Cellular Hotspot
When you are desperate for a good internet connection, creating a Wi-Fi hotspot from your phone might be a good last resort. Hotspots can be expensive depending on your phone plan, but they typically work well.
Now that you know how to boost your RV's Wi-Fi signal, consider giving your RV's overall aesthetic a boost with new siding or lamination from Hemet Valley RV, a dual-functioning company in California, specializing in aluminum and fiberglass RV Siding and aluminum RV travel trailer siding.