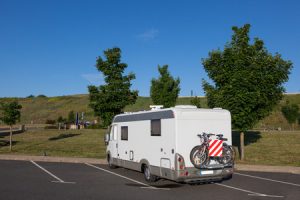 Ready to hit the road for a family vacation or independent getaway? So are many others, as RV demand in America has reached its highest point in decades.
The recreational vehicle market is divided into three broad segments: motor homes (class A, class B and class C), travel trailers (conventional trailers and fifth-wheel travel trailers) and campers, and camping trailers (folding camping trailers and truck campers).
In 2008 and 2009, shipments plunged in the RV industry as consumers made fewer discretionary purchases due to rising borrowing costs. However, assisted by low gasoline prices and cheap credit, the RV industry is back in business, according to an article from Reuters.
The Recreation Vehicle Industry Association predicts RV shipments, including travel trailers and motorhomes, will reach nearly 438,100 in 2017. The largest gains are expected to be in conventional travel trailers.
Millennials make up a new, growing market for the RV industry, as those born in 1980 through 2000 typically choose to spend on experiences and adventure over material goods, according to the article.
What else contributes to the overall market growth of RVs? To begin with, improved technology and high-tech features are appealing to younger consumers. Features often include high-tech entertainment and communication systems such as video game systems, cell phones, flat-screen TVs, and CD and DVD players. Power window curtains or shades, touch-screens to control the RV environment, foldout exterior barbecue grills, automatic icemakers and rearview cameras for backing up are features that appeal to the tech-powered, younger generation. Additionally, RVs can be rented in most major cities and tourist areas, as well as used as mobile offices for business travelers, increasing their popularity as optional rental vehicles.
Be a part of the RV resurgence and check out Hemet Valley RV for all of your siding, parts and storage needs!