We all love spending time i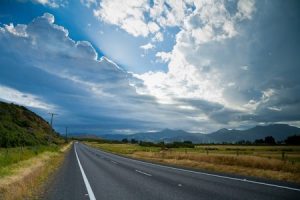 n our RVs, and there is no better feeling than cruising down the road on that sunny, summer day. Unfortunately, it's not all sunshine and rainbows.
Sometimes RV's get stuck in the rain, and it is important to be safe on the road when storms start to surface.
Follow these tips the next time it starts raining during your RV trip.
Make Sure All Wiring is Secured
It doesn't take a meteorologist to know that exposed metal and wires are prime candidates for lighting strikes so protect your family and your RV by securing these electricity sources. Retract all RV jacks, ensure that your power lines are stored and disconnected and retract all of your TV/Satellite antenna wiring.
Watch Where You Park
When the lightning is going crazy, it is important that you stay inside of your RV, but it also matters where you park your vehicle. Avoid parking near utility poles or tall trees and avoid high and wide-open elevations.
Keep Water Out
When storms strike things get wet, and the last place you need that rain is inside of your RV. These tips may seem obvious, but you would be surprised how many people forget them. Start by closing and securing all windows. Next, make sure that any awnings are retracted and properly secured. Finally, make sure your outside storage doors are closed and locked.
Watch for Flooding
If you absolutely must drive during a heavy storm then make sure to be safe. If you can't see out the windows, then you should probably pull over to the side. If you do pull over, watch for flooded areas. Do not attempt to drive through it. This water can harm your vehicle, and you never know when a downed power line might be touching that water.
At Hemet Valley RV, we want your vehicle to be safe and secure, and that is why we offer the best siding and storage solutions. We have been in business since 2005 and we take pride in everything we do. Contact us today to learn more.