Texas and Oklahoma are two states every American must experience in their lifetime. Teaming with natural wonder and beauty, this central swath to our great nation is so much more than the dusty plains you may picture. Lush green forests and roaring river ways dot the landscape from the corn fields in the northern reaches of Oklahoma to the Gulf coast of Texas.
Natural Falls State Park, OK

Not far from the Arkansas border, Natural falls State Park is a Caribbean oasis in the middle of the western Ozarks. Complete with an 80 foot waterfall among ancient water-formed rock formations, Natural falls State Park offers some of the most amazing camping in the region.
Hiking at the bottom of the narrow V-shaped valley lends some of the most spectacular and breathtaking views most will experience in a lifetime. Swimming is not allowed in the waterfall area, however, there is plenty of places downstream where it is permitted.
Salt Basin Dunes, TX
Against the backdrop of the Guadalupe Mountains lies the down drop of the Salt Basin Dunes in West Texas. A vast, mesmerizing reach of isolation, the Salt Basin Dunes were formed from a salt lake which dehydrated 20million years ago. Left in its wake are immense swaths of death and gleaming-white beauty.
But be careful not to interfere with any of the cryptogamic shells. Differentiated as dark lichen, these shells protect the dunes from any further erosion. If you stay on the designated walkways, you should be able to easily avoid harming any cryptogams. Moreover, collecting of any plants or wildlife is strictly forbidden under conservationist law, so keep your hands to yourself.
Wichita Mountains Wildlife Refuge, OK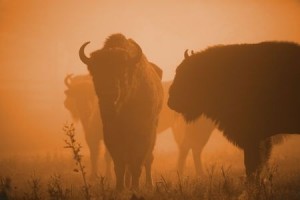 The perfect cure for cabin fever, the Wichita Mountains Wildlife Refuge spans nearly 60,000 jaw dropping acres. About 60 miles north of the Texas border, the Wichita Mountains Wildlife Refuge is home to free range buffalo, prairie dogs, Texas longhorn cattle, elk and deer. An expansive list of recreation opportunities includes rock climbing, rappelling, mountain biking, camping, picnicking areas and camping.