California is a state so immense and diverse, its economy is considered the eighth largest in the entire world. It is by far, the largest economy of any state in the Union, having generated $2.3 trillion in 2014, compared to the distant second; New York with a gross state product of $1 trillion in the same year. In fact, the economy of California is larger than Italy's, Canada's, Spain and Greece's.
A great deal of the economic production has to do with the immense size of the state. Everything from the Pacific coastline to the Sierra Nevadas can be enjoyed throughout the Golden State. Even the highest and lowest points in all of the continental United States are found within 90 miles of each other; Mount Whitney and Death Valley. But these only include a small fraction of all there is to see and do in the great state of California.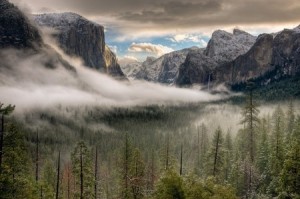 Yosemite
Traveling nearly due east from San Francisco on California Highway 120 almost clear to Nevada will bring you to the Sierra Nevada Mountain Range. And centrally cradled in the Range is the magnificent Yosemite Valley. Traveler friendly access and some of the most spectacular natural wonders on earth combine to make this a sightseer's dream. Everything from El Capitan to Half Dome to Vernal Fall is visible via either a short hike or right from your RV.
Stinson Beach

Not necessarily a great swimming beach, situated on a cold, restless sea thick with kelp undergrowth and frequent shark sightings, Stinson is an entirely different kind of coastal experience. Driving up the winding Shoreline Highway, Stinson Beach appears suddenly– encased in sheer rock cliffs. Immense, menacing boulders dot the almost-black sand as thick, sea fog hangs low in the air. It's definitely not your quintessential beach-going experience, like what you'd see in Florida or Mexico; it's an experience as unique and mold-breaking as the state of California itself.
Also on your travels up the Shoreline Highway, you can stop in the spectacular Muir Woods. Twelve miles north of San Francisco, this thick, lush forest is home to some of the largest old-growth coastal redwoods on the planet and is a designated national monument. This getaway up the Pacific Coast will indefinitely offer one of your most intimate experiences with nature.
Big Sur
Among the most breathtaking vistas you can perceive from a single point, it's no wonder dozens of writers and creative types have called this sections or California Pacific coastline home throughout the 19th, 20th and 21st centuries. Famous, cultural-molding geniuses looking to Big Sur for their creative inspiration include everyone from Henry Miller to Ben Gibbard to Hunter S Thompson to Jack Kerouac. The Dinosaur Rock coastline just north of the Bixby Canyon Bridge (inspiration for a 21st century hit song) embodies all the wonders of the Pacific Coast, complete with crashing waves and rock fluvial.