The most otherworldly region of our great country, the American southwest is vast and expansive. In this expanse are some of the most fascinating natural wonders not only in our country but on the entire planet. Centric on the Great Basin Desert, the arid landscape across Arizona, California, Nevada, Utah, Texas and New Mexico is something to truly behold.

Big Bend National Park
Covering over 800 thousand acres, Big Bend National Park straddling the Texas side of the Mexico border could take days to explore. Rugged and beautiful, Big Bend offers one of the most diversified climates in the country. Dipping down to below freezing on nights in as early as October while scorching temperatures dominate throughout August, this region has quite the weather range. But on a mild day, you could hike for miles on one the park's many trails, including Emory Peak.
Emory Peak is the tallest peak in the park, offering sweeping views upon summit. While trekking throughout the vast expanse, be sure to also admire the physics-defying Balanced Rock. And for the unmotivated, you could always take the Ross Maxwell Scenic Drive or the Window, whereby you never even have to leave your vehicle.

Grand Canyon
Carved by the Colorado River over millions of years, the Grand Canyon is among the most storied and historic natural wonders in the United States. With depths of over a mile and a snaking length of over 277 miles through the northern Arizona desert landscape, this breath taking valley is beyond comprehension to experience in person. There is no way to take in any large measure of the park from one perspective and it is best conquered by automobile.
If you are parking your camper in the Park overnight, be sure to check in with the station and come prepared with warm clothing. And to take in a little history, drive the camper down the South Rim of the canyon to explore the numerous historical buildings dotting the area. These include the Desert View Watchtower dating back to 1932, The Lookout Studio built in 1914 and the Bright Angel Lodge from 1935.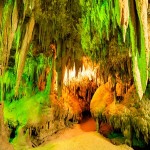 Carlsbad Caverns
When your trip takes you through New Mexico, make sure to make a stop to take in the awe-inspiring Carlsbad Caverns. Amazing rock formations in a subterranean world, Carlsbad composes the world's oldest cave system far below the Chihuahuan Desert. The well-lit caverns allow you to explore and admire the natural wonder of fossils from an ancient sea filling the caverns during the Permian Age millions of years ago. The Caverns offer some of the largest and most colorful stalagmite and rock formations imaginable.