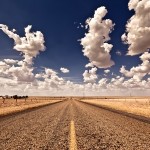 Packing for any type of trip can be a daunting task, but its especially challenging when you're packing for a road trip in an RV. You have to fit everything you need in limited space. Packing for the trip doesn't just include clothes and toiletries but also bedding, games, first aid items and of course, food. As you browse your pantry or the grocery store there are a few food staples that you'll need to make your RV trip full and satisfied.
Canned foods are a great start. As non-perishable items, canned good can last as long as your trip. There's no rush to eat them and they can be stored in cabinets as opposed to in a fridge or freezer. Canned goods can also provide you with a variety of food stored in a rather small space. Fruits, vegetables, soup and even meat can be purchased in cans and used throughout the trip. There is typically little prep time for canned foods and they can easily be transformed into a gourmet meal with proper cooking and collaboration.
Snacks are also a necessity when it comes to RV trips. While these foods wont last for weeks or months, they rarely have to. In between meals or when out on an excursion, snacks are a must-have. Being hungry can make travelers of any age cranky. Luckily a quick snack can fix that and get the trip back on track. A variety of snacks can be purchased and stored in the RV without using a ton of space. A few options include pretzels, chips, granola bars, trail mix, dry cereal, cookies and crackers.
With meals and snack covered, you should also make sure to bring plenty of liquids. Dehydration is also a serious concern, especially if you're traveling through warm climates. A case of water bottles should also we kept on the RV, even if all the bottles can't be kept cold at once. Additional liquids to bring with you include Gatorade, juice and pop. You can even bring drink mixes that can be shaken into a bottle of water for flavors like iced tea or pink lemonade.
Canned food, snacks and an assortment of drinks are a good start to the food you will need for your next RV trip. Depending on the length of your trip you might want to stray away from foods that could go bad quickly like lunch meats or that have a strong odor like onions or tuna. Keeping all of this in mind, you are definitely prepared for a successful and cost-effective pre-trip grocery-shopping spree.