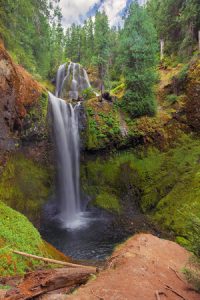 A trip might be about the journey, rather than the destination, but it never hurts to have an awesome destination lined up too. In case you're having trouble finding an interesting spot to visit next, we've picked out a few of our very favorite West Coast RV destinations for you to check out. Start planning your next RV-cation to one of these destinations today!
The West Coast has some of the best RV destinations in the country. Have you visited them all?
Washington State
If you've never spent time in The Evergreen State, drive up to Washington and spend a few days on one of their hundreds of gorgeous campsites. Lower Falls Campground, located in Gifford Pinchot National Forest about 430 meters above sea level. Campers will enjoy incredible views, gorgeous waterfalls, hiking and horseback riding, and more.
Mossyrock Park is situated on an idyllic lakeshore in Southwest Washington. Spend cooler days taking in the sites, fishing, and hiking, and spend warm days wading in the lake!
California
There are many places to visit in California, and there are campgrounds in just about every nook and cranny of the state. Wine lovers can take a drive out to Napa, where you can enjoy wine tastings on gorgeous vineyards, eating delicious food, and strolling through green, hilly forests.
Del Norte Coast Redwoods State Park, located in Klamath, offers breath-taking views of ancient redwoods, with plenty of hiking options perfect for families with young kids.   
Need a place to store your RV when you're not on the road? Give a call today or contact us online to learn more about all the storage options available at Hemet Valley RV!