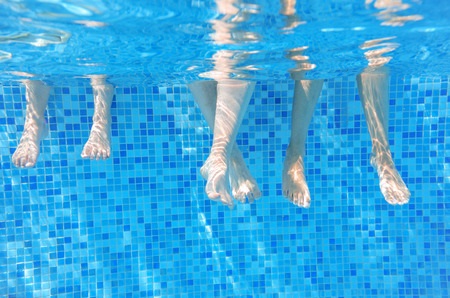 Summer gives us the perfect excuse to travel. (As if we needed it!) We gather up our family, sit on our suitcases to close them after carefully stuffing them full of necessities, and pack up the RV for a memorable family vacation.
One of the best ways to combat the high summer temperatures is through taking a long, refreshing swim.
Many people put finding clean lakes or staying near a pool at the top of their summer to-do list to ensure they have a way to cool off during summer travels.
However, imagine that if instead of borrowing a source of water for swimming you could simply tow your own.
For one of his latest projects, French artist Benedetto Bufalino transformed a RV into a refreshing, functioning swimming pool. To create this masterpiece, Bufalino first took the RV apart. He removed the roof and interior and retrofitted the body of the vehicle to better support the water he planned to fill it with. After adding some paint for the finishing touches the RV pool was complete and ready for action.
Bufalino can take the RV with him wherever he goes, as the vehicle is small enough to be towed with an average-sized car. As an artist, Bufalino focuses much of his creative energies on recycling old vehicles into functional vessels. Some of his past projects include turning used cars into relaxing Jacuzzis, tractors into unique aquariums, limousines into competitive Ping-Pong tables, semi-trucks into daring tennis courts, and cop cars into operational chicken coops. See more of Bufalino's work on his website.
Though not currently an RV feature available on the market, an RV-turned-swimming pool sounds like the perfect idea for summer travel. You can still transform your RV this year, however, with new siding from Hemet Valley RV, offering an impressive selection of patterns and colors to fit any restoration project.