RV road trips are incredibly fun and adventurous for anyone. For a group of five, this trip was planned for over a year. The trip was planned for March 13-23, 2020, and the Coronavirus was just starting to ramp-up in the United States at this time. The group was still positive about going and flying out to their destination, but the trip came with challenges.
A 10-Day RV Road Trip in the Southwest
We flew out of Buffalo, NY on Southwest Airlines and arrived in Las Vegas, Nevada where our trip started. Once we landed, our plan was to Uber to the meeting place of the person we were renting the RV from. The airport was still thriving as people were flying in for regular Vegas adventures, but there loomed an uneasiness and virus talk amongst workers and travelers.
Las Vegas, Nevada
We arrived at our abandoned Walmart parking lot near the Nellis Airforce Base. The man lending us his RV for the 10-day trip was an Airforce veteran who took us through all the ins and outs of the recreational vehicle. Since there were five of us taking this road trip, everyone had to be paying attention to the details in case something was to go wrong. The RV had some character, especially the rustic siding on it. Something that Hemet Valley RV could easily fix with their rv siding and repair services in Hemet Valley, California.
After picking up the RV, we went to a functioning Walmart, so that we could stock up on food and essentials for the trip. Conveniently, the grocery stores were still stocked pretty well with supplies and food, but of course the lines were long, and the paper products were starting to run thin. We took off for our first destination, which was Joshua Tree National Park. We drove through the Mojave Desert in the dark and arrived at Joshua Tree around 11pm Pacific Time.
Joshua Tree National Park
Joshua Tree National Park was stunning. We found an RV campsite just outside of the park about 45 minutes away. We had everything we needed from electrical and water hookups to bathrooms and showers. The town near Joshua Tree seemed to be vibing with park goers and visitors Our park experience consisted of hiking Ryan Mountain for sunset, catching sunrise at the Cactus garden, and climbing all over the rocks. It truly was a great time to be there. We made sure we kept our distance from other people, and relied on our supplies in the RV.
We spent the weekend here before heading over to Flagstaff, Arizona on Monday.
Arizona
We arrived at our campsite in Flagstaff, Arizona. Our plan was to spend a couple nights and a full day just hanging out in the town. The Tuesday was St. Patrick's Day, so we made sure to stock up on a few sodas at the grocery store to celebrate. This time, we found ourselves at the start of shops and restaurants closing due to the spreading of the Coronavirus.
The next day we shop up North to the Grand Canyon where we got to see one of the most incredible places in our country. This time, our campsite had no hookups, but we were only spending a night there. After exploring the canyon, we went back to the RV and hung out. After a few minutes, it started snowing heavily, and we found ourselves in the middle of a winter wonderland. We decided to have a fire and start a snowball fight with our neighbors.
The next day we traveled up to Page, Arizona where we got to explore Horseshoe Bend and Lake Powell. Unfortunately, our Antelope Canyon Tour was cancelled by the Navajo due to large gatherings being shut down in states across the country.
Zion National Park, Utah
On Friday, we arrived in Zion. This was my favorite place by far. Spending the rest of our weekend and trip in this beautiful park, we had a campsite with hookups. We also had the great opportunity to hike Angels Landing, which took quite a bit of energy and courage to tight walk the narrow peak of the mountain. The final view was worth it. We finally drove back to Las Vegas on Sunday where we spent the last night in an Air BnB. One thing we wanted to see was the Vegas strip because at this point, everything was completely shut down. So, there we were just walking along the empty and ghostly strip.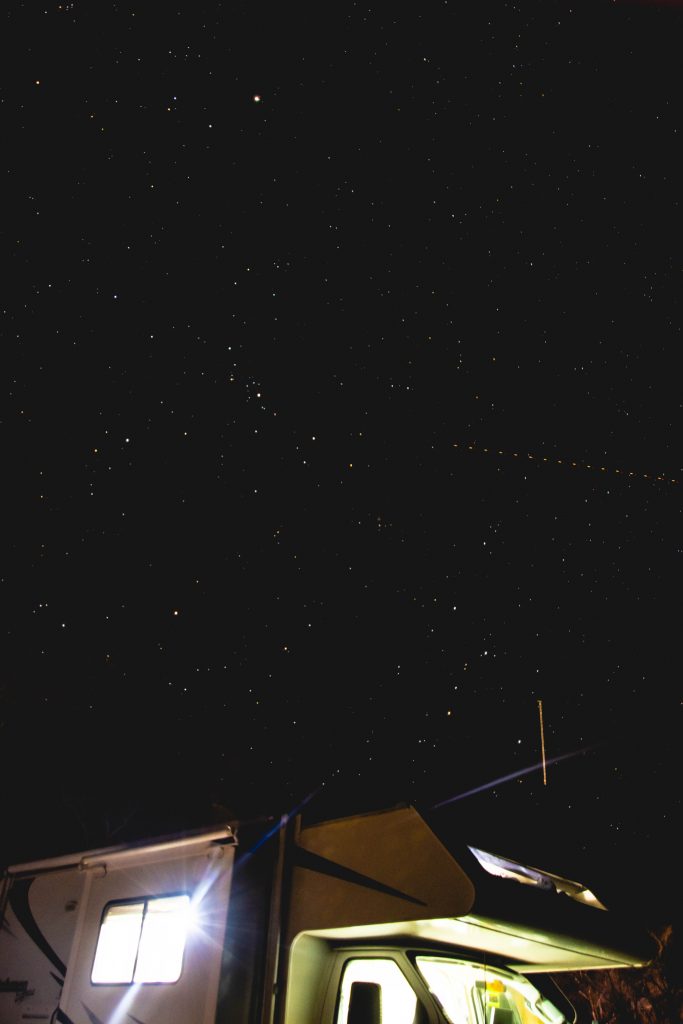 Flying home on Monday was very interesting. The airport was a ghost town and sanitation was in full swing. There were only about 15 people on our flight.
Road Trip in an RV is Worth it
Although we took this trip at an interesting time, it was filled with memories. All I would like to do now is save up for a small RV or camper to own and continue my exploration of National Parks. Once this virus comes to an end, I encourage anyone out there to uncover that old RV, take it to Hemet Valley RV for some siding and repairs, and take your family out on a road trip.