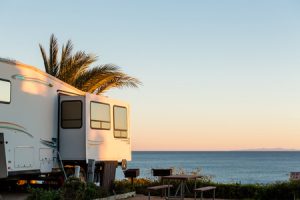 With winter weather about to set in, we're setting our sights on our next warm-weather vacation. But planning last-minute trips can be expensive, especially when it comes to airfare. Luckily, many sunny destinations in this great country are just a car ride away! Why not drive in style to your warm weather getaway? Here are some great spots to dodge winter weather and sneak in a road trip in your RV this season.
For those of you in the Northeast, consider a trip south down the coast to North Carolina. Myrtle Beach is open year round, and while it may not be 80 degrees and sunny, you can still enjoy the beaches and the pools at tons of their gorgeous beach-front hotels.
For a great spot to park your RV in the Sunshine State, check out the Space Coast. With beautiful beaches, convenient campgrounds, and bustling Orlando just a few hours away, this destination has a little bit of everything, perfect for a family getaway or a weekend retreat.
For those of you in the country's Midwest region, consider a longer road trip to sunny California. The options are virtually endless. From Napa Valley for a wine lovers' winter escape, to Disney Land for the kids, and Malibu if you love the beach. You could spend a few days or a whole month exploring this incredible state.
Last but certainly not least, why not check out Texas? Houston and Austin have distinctly different vibes, but each has tons to offer. From rich historical sites to unique mountain biking trails to golf on the most beautiful courses you can imagine. And they say everything's bigger in Texas, so your RV will fit right in!
To get your ride ready for your next road trip, contact us at Hemet Valley RV today!