While the highways remain filled with vintage cars, vintage trailers seem to be a rarer site, but one California man is trying to change that one restoration at a time.
The Tehachapi News recently featured Gary Warner, a Tehachapi resident who spends his spare time finding and restoring trailers from yesteryear. His targets typically include models from the 1940s, 1950s and 1960s, usually rescuing them from dumps and scrapyards.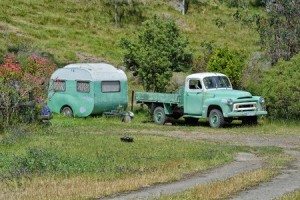 An electrician by trade, Warner restores trailers from the bones outward, and he strips some all the way down to their skeletal framework to replace rotted wood framing. After recently retiring, he now spends his time restoring trailers he's found to a state where they can be fully refurbished. Most trailers have some minor work done to make them at least capable of being towed to their new home, but many still need extra work from their new owners to truly restore them to a usable state and their former condition.
For vintage trailer enthusiasts, this can be part of the fun. Trailers can be used for camping, office space, a second home or even rental lodging, and bringing back a piece of history like a vintage trailer is a passion project that can be immensely rewarding for anyone with an interest in classic campers. Warner has sold trailers that have ended up all across the country, including Louisiana, Texas, Pennsylvania and, of course, throughout California.
Warner compares his work to that of a dog rescue organization.
"I try to match up old trailers with new owners who will continue the trailer's journey back from disrepair," Warner told the paper. "And the restorations can be amazing – some of them are so beautiful that will take your breath away."
Whether you have a classic trailer you want to restore or a more modern model that simply needs a little attention, reach out to Hemet Valley RV. For more than 15 years, we've helped RV owners find different parts for their vehicle. If you want to replace your RV's siding or reinforce the door, Hemet Valley RV has a number of solutions that can help you out. If we don't have the right part in stock, we can often help you find it or, in some cases, even custom create pieces to meet your needs. To learn more or to discuss what you need, call us today at 951-765-5075.