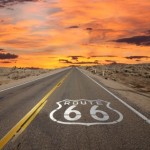 Credited as the road having given rise to the American road trip, Route 66 is among the most historic and storied roadways in our country. Spanning from Los Angeles to Chicago, the east-west highway is a must-see for any traveler who loves to road trip.
Originally a designated wagon road built in 1857, the Route 66 highway we know was constructed in 1927. Completely paved by 1938, the highway option has been building its past ever since. Made a popular driving route for its flat and manageable driving conditions, truck drivers and travelers alike preferred Route 66. And as traffic volume progressively grew, so too did businesses to accommodate road-weary travelers.
Nicknamed 'Main Street of America' and the 'Mother Road,' 66 was part of the original US Highway system. The businesses traffic on the highway gave rise to made the highway the most exciting stretch in the country. Everything from diners to tourist attractions, including The Cozy Dog Drive-In, the Will Rogers Memorial Museum, Dixie Truckers Home- America's oldest truck stop- and the famous Cadillac Ranch.
Beyond all the stops along the way, Route 66 offers some of the most scenic roadway. Pull to the edge of the Grand Canyon and feel as small as person can next to the vastness of the gorge. Explore the dark underworld in the Meramec Caverns of Missouri and the expansive otherworldly wilderness found in the three deserts you drive through in California, Nevada and Arizona.
Acting as a thoroughfare connecting two major urban centers, there is so much for travelers to do along the way to this day. And when your journey has come to an end and you've taken in all Route 66 has to offer, you can enjoy the surf, sand and Santa Monica Pier awaiting you at the 'End of the Trail.'