Home
Welcome to Hemet Valley RV Siding & Storage: Travel Trailer Siding in Hemet, California.
We are a family-owned business, providing the very best RV siding and storage since 2005. Hemet Valley RV is really two companies in one. We provide both RV siding and RV storage.  Give us a call for all of your RV siding needs and let our experienced crew make your purchase easy and comfortable. Experience really does matter in this business.  Call now and find out why our customers rely on us for all of their RV siding projects.
Is the exterior of your RV starting to outdate the interior and need to give it a facelift? Here at Hemet Valley RV we are the leaders in RV siding and travel trailer siding and give each client a wide variety of colors and patterns that are perfect for any repair or renovation. No matter where you are in the United States or Canada you can rest assure that Hemet Valley RV can get the exact RV aluminum siding you need, right away.
An RV or travel trailer are great investments that benefits both personally and financially and can last for many years with the proper care and maintenance. We have the facility and experience to manufacture almost any kind of stock and custom aluminum or fiber glass RV siding that will fit perfectly on your RV to ensure a great finish and safely secured. Most time spent on RVs and travel trailers are spent with family and loved ones and should be maintained to the highest standards. Let Hemet Valley RV manufacture the exact RV siding for you.
Siding – We manufacture top quality roll form siding for most brands and models of RV.
NEW! – We now manufacture siding for vintage trailers as well.
Laminating – We laminate filon/fiberglass product and we also offer Raw form, prelaminated Filon/Luon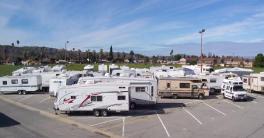 One of the biggest problems of owning an RV or travel trailer is finding a place to store in on downtime. We also offer safe and secure RV storage. Ask about our covered spaces! (limited availability) Click here to check out our RV Storage page for more information on our RV storage services. We have one of most secure and roomy RV storage areas in all of California. All of our clients enjoy the most competitive rates, friendliest service and the perfect home away from home for your recreational vehicle. Don't get in arguments with neighbors over storing it at home or having to worry about vandalism or theft in an unsecured parking lot, come and park at the best RV storage facility in California.
Please take a few moments and see the great RV siding we produce and RV storage we provide. For years we have ran our family owned business with the mission of manufacturing the highest quality RV siding, with the most competitive prices and level of customer service that is outstanding. Please don't hesitate to call if you have any questions about our services.  Our experienced staff can help you with your RV siding project from planning to the finishing touches.  If you are looking for the very best in RV siding or an RV storage company to store your baby, Hemet Valley RV is the place for you. Call us today
Contact us today to get started.
Thank you for stopping by Hemet Valley RV, your number one source for travel trailer siding, RV siding, RV storage and a number of other services in Hemet, California. From aluminum RV siding to fiberglass RV siding, we are sure to have the perfect RV / travel trailer siding solution for you! So go ahead, take a look through the site and learn about our various travel trailer / RV siding services and solutions.
Travel Trailer Siding and Storage in Hemet, California at Hemet Valley RV
Purchasing an RV or travel trailer is a big decision and once you have finally purchased one, maintaining it is a necessity. If you travel frequently with your RV or travel trailer, there is a good chance that it will see its fair share of the elements. Whether it's from natural exposure to weather or any type of accident, when your RV or travel trailer needs its siding replaced or repaired, look no further than Hemet Valley RV!
Aluminum and Fiber Glass RV Siding from Hemet Valley RV
Thank you again for taking the time to browse through our website. If you are a travel trailer / RV owner in California, look no further than Hemet Valley RV for all of your siding and storage needs. Contact us today for more information about our services! You can reach us by phone at 951-765-5075 or via email at hvrvmetal@verizon.net.  Check back often for updated information on our services!